News
Posted by Paul Debolt on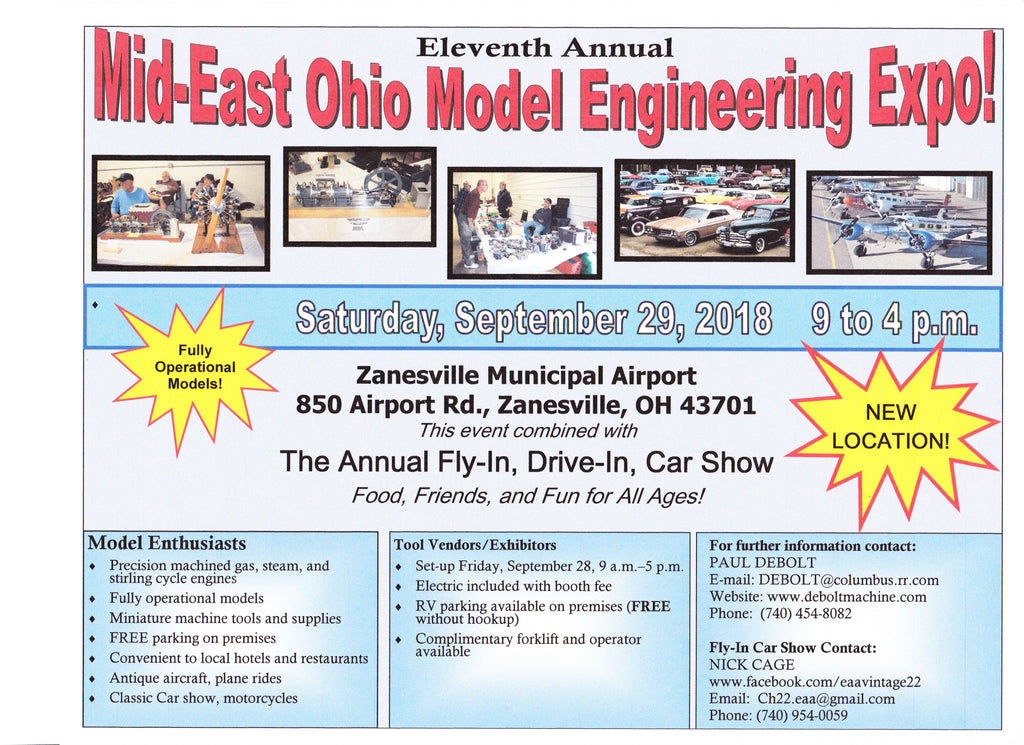 It is that time of year again....your annual reminder of the MEOMEE.   Our Vendors and Exhibitors are invited to join us for set-up day (Friday, September 27, 2019).  
Posted by Paul Debolt on
MID-EAST MODEL ENGINEERING EXPO 2016      THANK YOU!   Just wanted to extend our thanks to all Vendors, Exhibitors, and Engine Enthusiasts for participating in our Ninth Annual Expo.    Everyone seemed very pleased with our Expo again this year.      Pictured are some Vendors & Exhibitors enjoying the lunch included on set up day.  This years menu included beef stew, rolls, applesauce, apple cake, oatmeal cookies, chocolate chip cookies, and pumpkin cake.  Drinks were also provided (water, soda, coffee, tea, hot chocolate).  Breakfast was also included on set up day which included bagels, english muffins, donuts, raisin toast, coffee, tea, and...
Posted by Paul Debolt on
Hello.  Just couldn't resist telling you about our fast-approaching show with all kinds of perks for the vendors and exhibitors, including a free lunch on the day of set up and a 1/2 and 1/2 drawing held around 3:00 p.m. on Saturday:   NINTH ANNUAL MID-EAST OHIO MODEL ENGINEERING EXPO!   Our show is being held at the Muskingum County Fairgrounds located at 1300 Pershing Road in Zanesville, OH.  We are open to the Vendors/Exhibitors on Friday & Saturday, October 14 & 15, 2016 from 9:00 a.m. - 5:00 p.m.  We are open to the public on Saturday, October 15, 2016 from 9:00 a.m.-...